Dear Friends,
2011 was an exceptional year of honor and recognition for our company!


On March 14, 2011, the Captive Insurance Companies Association (CICA – the oldest, largest, truly international such entity) awarded The National Catholic Risk Retention Group, Inc. its Outstanding Captive Award for 2011.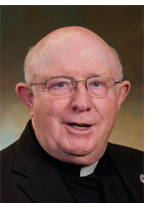 Significantly, this award contemplates not only companies in the USA, but captive companies and risk retention organizations globally. There are approximately five thousand such companies operative internationally. This award is not given every year, but only when it is deemed appropriate by the independent Captive Insurance Companies Association. Our company is most appreciative and humbled to have been selected for this prestigious honor.


One critical criterion (of several) in the determination of eligibility for the CICA Outstanding Captive Award was the provision of value for shareholders and other stakeholders, through education. Our company was recognized for outstanding education as conveyed via our Legal Defense Practice Workshops, the risk management workshop presentations at our Annual Winter Meetings and our VIRTUS® Program 'live' and online training.


Among those recognizing the excellent value of the VIRTUS Protecting God's Children® training this past year, was the Pontifical North American College in Rome. The College hosted our team for in depth presentations during October. The international team members were: Michael J. Bemi, President and CEO, Patricia L. Neal, Director of the VIRTUS Programs, Robert Hugh Farley, consultant and expert in crimes against children, Paul Ashton, Psy.D., D.Min., consultant and principle facilitator trainer for VIRTUS and myself as Chairman of the Board of Directors. In attendance at these sessions were two hundred forty major seminarians, several priests and the College faculty and administration. It is our hope that, both now and when the seminarians return to the USA, they will be models of priestly holiness and proper behavior as co-workers in the protection of all children, but especially those entrusted to their care.


Recognition of the very high quality of programs offered by our company was evidenced once again when we were unanimously selected by The Pontifical Gregorian University in Rome as the sole safe environment program presenters for the "Towards Healing and Renewal" conference February 6th through 9th, 2012. This conference was a direct response to Pope Benedict XVI's insistence that all Dioceses have appropriate policies and procedures in place to protect children and the vulnerable adult population. All 165 Episcopal Conferences, Eastern Rite bishops and major Religious Order Superiors worldwide were extended an invitation. Our company was pleased to have the following outstanding individuals as presenters for this conference on our behalf: Michael J. Bemi, President and CEO; Patricia L. Neal, Director of the VIRTUS Programs; Paul Ashton, Psy.D., D.Min., our senior VIRTUS trainer; Brother Brendan Geary, Ph.D., consultant to VIRTUS; Rosanna Giacometto, Ph.D., consultant to VIRTUS; Rev. Gerald J. McGlone, Ph.D., consultant to VIRTUS; and Jan Slattery, Director, Office for the Protection of Children and Youth, Archdiocese of Chicago, VIRTUS partner.


As shareholders we can be proud that our company is in the preeminent leadership position within the Church in protecting children and vulnerable adults from abuse. We can do something and we are doing something positive for our Church and society. May God continue to bless our safe environment efforts this year and beyond.
Sincerely,

Rev. Jay C. Haskin
Chairman of the Board of Directors
The National Catholic Risk Retention Group, Inc.